When a cataract is removed from the eye, a replacement lens is needed in order to see properly. There are different types of implants available today and we will discuss these options with you at the time of your consultation. Lens replacement surgery is the most frequently performed surgery in the U.S. and is one of the safest.

Distance Vision Correction With a Monofocal Lens Implant
This option provides clear vision at a distance to see the TV, road signs, and movies. Glasses are required to see anything closer than 3 feet like the computer screen, cellular phone, a business card or the newspaper. If you have astigmatism, which is an irregular curvature of the front part of the eye called the cornea, you will need to have this corrected to achieve the best distance vision without distance glasses. This lens is excellent for those who don't mind wearing glasses after cataract surgery.
Mono-Vision using Monofocal Lens Implants
Many people have utilized Mono-Vision contact lenses before. With this technique, the dominant eye is usually set for distance viewing and the non-dominant eye is set for near. This system can be duplicated with cataract surgery using the monofocal lens implants with one set for near focus and the other for distance. If you have used monovision before and liked the vision with it, this option is an excellent one.
Correcting Distance Vision And Astigmatism
As mentioned previously, if you have astigmatism, which is an irregular curvature to the front part of the eye called the cornea, it will distort distance and near vision requiring the use of glasses in addition to the lens implant. Thanks to new techniques, astigmatism can be corrected at the time of lens replacement surgery utilizing a technique to alter the curvature of the cornea with small incisions called Limbal Relaxing Incisions (LRI's). Additionally, Toric implants are now available to treat a wide range of astigmatism. Patients choosing this lens replacement option will see well in the distance, usually without any glasses. They will still need magnifying glasses to see up close just like the monofocal lens implants.
Multifocal Lens Implants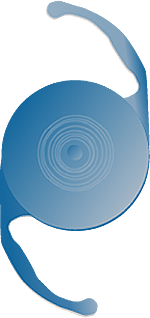 Recent advances in lens implant technology are now enabling patients to be able to see near and far without glasses. These new technology intraocular lens implants are called accommodative or multifocal implants because they provide vision at almost all distances. Patients are able to do most of their daily tasks without being dependent on glasses. Even patients with a small amount of astigmatism are able to enjoy freedom from glasses by coupling the multifocal implants with LRI's or LASIK to modify any astigmatism. Occasionally, patients will notice halos around lights at night and some glare from bright lights. These visual symptoms are transient and fade with time.
There are several manufacturers of multifocal lens implants. Each lens has different attributes. We will help match you to the lens that will give you the best vision for your lifestyle needs.
Enhancements or "Touch-Ups"
Even with high technology implants and advanced diagnostics, sometimes there may be residual nearsightedness, farsightedness, or astigmatism which affects the vision. After an adequate healing period, this may be addressed with laser vision correction to further fine-tune the vision.