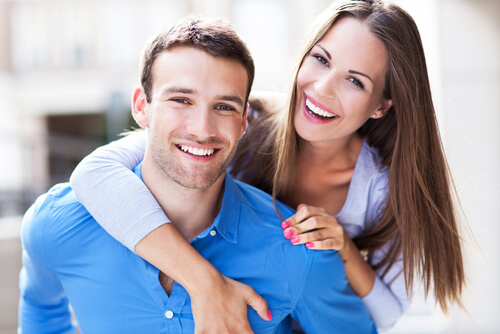 What is LASIK Eye Surgery?

LASIK is the world's most popular vision correction procedure and is one of the most frequently performed medical procedures, period. It is a quick, easy and relatively painless procedure that uses focused lasers to alter the shape of the cornea. Think of your cornea as a window through which light passes into the back of your eye, where images are processed; if you've ever tried to look through a warped window then you know that everything beyond it appears distorted, and this is exactly what happens to your vision when your cornea – or "window" - is similarly distorted. Now, imagine if you could, in a mere 5 minutes, take a laser and smooth out that pane of glass, granting a perfectly clear view of what lies beyond – this is, essentially, what LASIK can do for your eyes. You can learn more about the procedure, and the state-of-the-art technology we use to conduct it, on our LASIK Technology page.
LASIK surgery offers a permanent solution to nearsightedness, farsightedness, and astigmatism and in almost all cases eliminates the reliance on contact lenses or glasses. Our patients, especially those who lead active lives, often remark that LASIK surgery has helped them do the things they love with an added sense of freedom. Helping you to see the world clearly is extremely important to us here at Ophthalmology Consultants.
What if I'm not a candidate for LASIK?
While the vast majority of people who need or want LASIK will qualify, there are unfortunately some who won't, due to a limited number of specific factors. In the unlikely event that you fall into this category, we offer alternatives to LASIK that will still greatly improve your vision and reduce or even eliminate your need for glasses and contacts. LASIK alternatives (such as PRK, for example) are similar to LASIK with only slight differences. Other LASIK alternatives, such as the Visian ICL and Refractive Lens Exchange, are used in some cases when LASIK isn't the best option for your vision. The Visian ICL is an implanted lens placed in front of the natural lens of the eye, whereas with Refractive Lens Exchange the natural lens is replaced entirely. To learn more about the LASIK alternatives we offer here in the Fort Lauderdale area, check out our What If I'm Not A LASIK Candidate? page.
Take our Online LASIK Self Test
What is the Cost of LASIK – is it Affordable?
We know that LASIK is an elective procedure and has associated costs that can be barriers to booking the surgery. Our desire is to ensure that cost is never a deterrent to our patients living with the joy of clearer vision, in a cost-conscious manner. Pricing for our bladeless LASIK procedure or PRK stands at $2,950 per eye($5,900 total). Financing options through Care Credit and Alphaeon Credit are available. There may also be discounts available through your insurance or vision plan. Learn more on our LASIK Financing page.
What's included:
Preoperative consultation with your surgeon
Orbscan tomography
Wavefront screening
Preoperative exam with your surgeon
Custom All-Laser LASIK procedure
Postoperative care:1 Day, 10 Days, 1 Month and 3 Months
Enhancement procedures during the first year if needed
What's not included:
Eye medications
Any additional post-operative visits unrelated to your surgery
Any additional medical treatments for dry eye syndrome
Enhancement procedures after the first year if needed
LASIK Fort Lauderdale, FL
Here at Ophthalmology Consultants the Center For LASIK, we are passionate about helping to free you from your dependency on glasses and contact lenses. We have helped countless patients throughout South Florida achieve their best possible vision through the use of state-of-the-art laser technology and decades' worth of surgical experience. We look forward to adding you to our growing list of satisfied patients who are now seeing the world clearly like never before through LASIK eye surgery.
Dr. Gailitis and Dr. Burks have been performing vision correction surgery in South Florida for over twenty years. In fact, they set up the first laser vision correction facility in the area and taught many eye surgeons from around the country. In 2001, they opened The Center For LASIK, a state-of-the-art facility dedicated to laser vision correction.
You will find our practice different from other centers offering LASIK. First, Dr. Gailitis and Dr. Burks are intimately involved with your care from the initial consult, preoperative exam, surgery, and postoperative care. In other centers, you may not meet the surgeon until the day of the procedure. Sometimes a surgeon may fly in the day of surgery and not be around if there is a postoperative problem. Second, we are conservative with our recommendations. We won't recommend surgery to patients if we don't think they will achieve excellent results. We also offer other procedures (see "What If I'm Not a LASIK Candidate") if LASIK is not the best option. Other centers may be hesitant to turn patients away, or not offer other treatments even if they are in the patient's best interest. Third, we strive to offer the best technology available. We are continually updating to the latest technology and procedures for LASIK. Finally, we do all of the above in a service-oriented environment. We know that your time is valuable.  After all, we know that you don't want to have LASIK, but you want to have what LASIK offers- freedom from glasses and contact lenses. Just check out our Facebook page to see what people are saying about us!
---
State-of-the-Art LASIK Facility
Our facility was built specifically for permanent vision correction. You'll notice the difference in the consultation room, the pre- and post-op rooms and the laser suite. Stop by and see for yourself.